The importance of sound in video
It's said that 'Sound Designer' is one of those jobs that is like a janitor, in that if you don't notice them, they've done their job well.
In my experience of video production, clients and editors seem to mainly focus on the visuals, and although visuals are perhaps the cleanest and easiest way to portray a message, it's amazing how much content there is out there that disregards sound to some extent. After all, it is an audio-visual medium, so there's another 50% of the content to utilise, explore, and design to help drive home more than simple messaging.
Take a look at this picture. What does it mean to you?
If this was the first shot of a video, what would it be about? What could be the story about to be told?
Maybe you've thought of an intense work-out sequence to promote a sports brand, or a solemn case study about someone's fight against adversity. Perhaps it's about road safety. Or how great trees are.
The point is that shots like these that help build a story are massively helped with decisions about how it should sound. The music choice, for example, would set a tone for this image before any words appear, or any voice is heard, or any logos appear.
This image with a music track that sounds upbeat, exciting, like it's building up to something, would rule out a lot of ideas of what the video is about. It forms a connection to the viewer immediately, and draws them into an idea of what they're expecting from the offset. A strong, relevant, engaging music choice would be a great way to capture your audience's attention, instead of having to rely purely on the strength of the visual.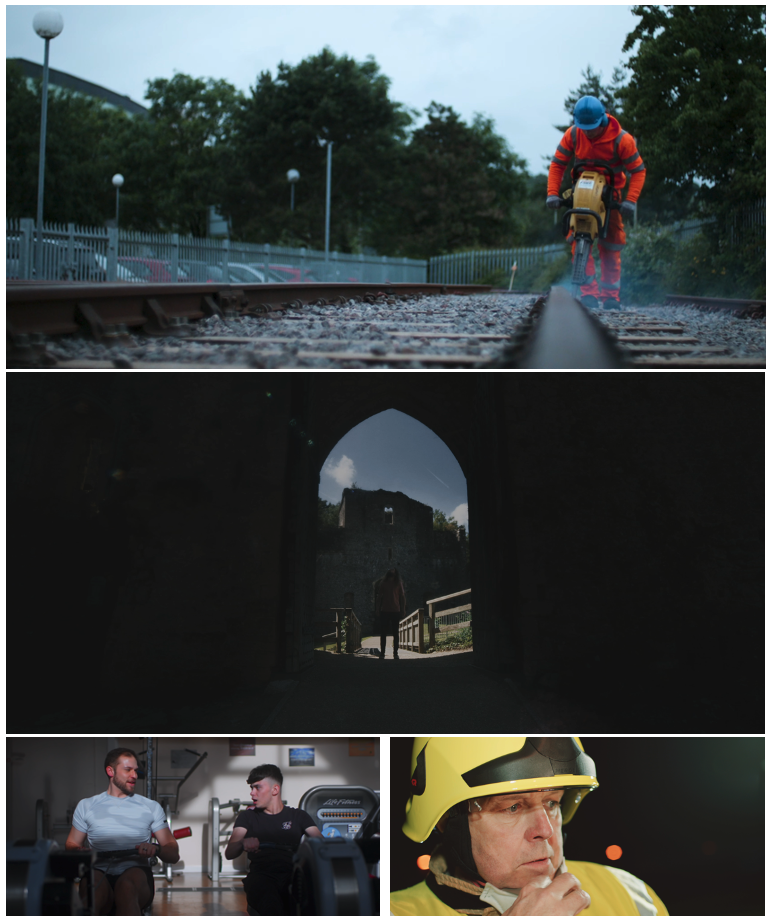 As engaging as some of these visuals might be independently, there is something missing. Effective sound design allows us to immerse ourselves in the environment, or alternatively, to get into the head of a character and empathise with them. With all four of the scenes above that we've shot, you could alter the audience's experience of the film with specific sound choices. These four scenes all will have ambience or noises that you can probably imagine just looking at them, but we can design the sound around what the video is trying to get across to the audience. In the first, what might it mean if we didn't hear the drilling, but instead birdsong and ambience from the surrounding area? What would it mean if we could only hear exasperated breathing in the gym scene, or in the firefighter scene? Sound design allows us to communicate feeling.
Basically, sound is more important than it might seem. Even at a time where most video content is scrolled past, it's the videos with clever, thought-out sound and music choices that stick with people, making them want to watch, and ultimately leading to better and more successful campaigns. Next time you make your important decisions about messaging and target audiences, it's worth remembering how effective sound is, and that it's a tool at your disposal often overlooked by competitors.
When thinking about what you want your content to say, think about how you want it to sound.