Protokol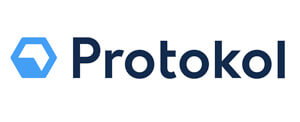 Brief
Protokol is a tech start up with a talented bunch of entrepreneurs behind it.  The company officially launched its online presence June 2020, right in the middle of the UK lockdown, with their website and other marketing collateral.  We had to produce a corporate video that represented them to a global market, whilst being limited by filming and travel.
What we did
Working directly with the CCO and CMO of the company we developed some initial creative ideas around utilising stock footage and overlaid motion graphics.  This allowed them to showcase their global reach, without the obvious expense of filming abroad and during a time when travel and filming was restricted.  The motion graphic elements would strengthen their branding throughout the film and during launch when getting the brand out is key.
This was a fun project to work on that uses 100% stock video, produced and edited by our in-house production team and then the finishing touches of the bespoke animated graphics we designed and created by our in-house Animation team; all of which during lockdown!
Some other examples of work you might like: